Cost management is a vital part of the business and operating strategy for every Canadian oil and gas producer. But if you're focused primarily on development and operations costs, then you're missing a significant part of the picture.
AssetBook ARO Manager is the only standardized tool for estimating and monitoring asset retirement obligations in Western Canada's oil and gas sector. AssetBook ARO helps you:
Perform A&D scenario analysis using any combination of properties.
Calculate potential ARO using XI's standardized cost model, based on an extensive study of actual reclamation and remediation costs in the WCSB.
Monitor and optimize liabilities from initial deal right through to abandonment and reclamation.
Upload proprietary corporate ARO cost data for more detailed analysis on either a company-wide or area-by-area basis.
Save your work for future reference, collaborate across departments, update and report on changes in corporate ARO.
Manage internal ARO seamlessly.
Report on accretion and changes between reporting periods instantly.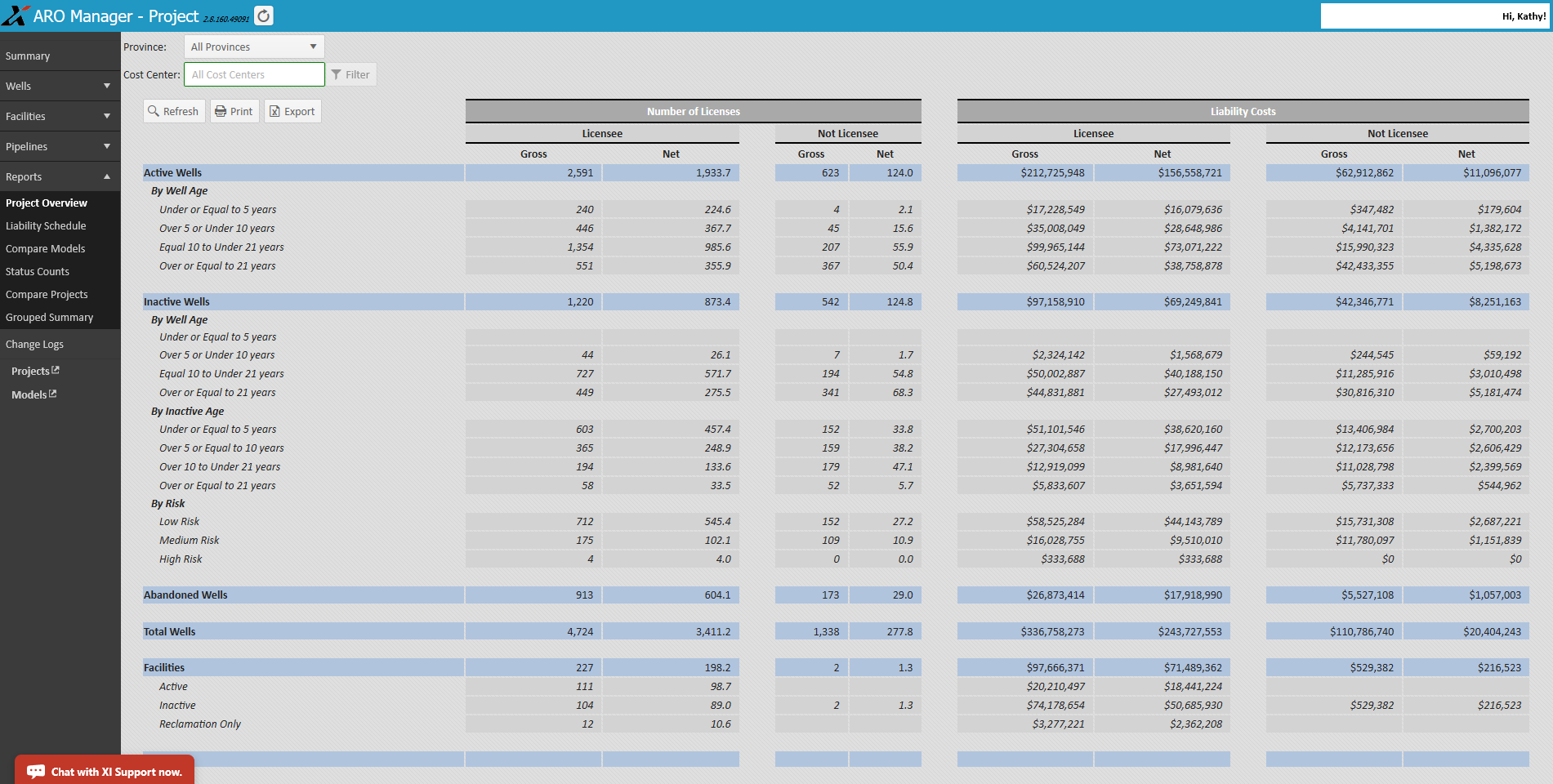 AssetBook is the ultimate industry intelligence source for Canadian E&P companies and anyone who does business with them. It gives you instant access to everything you need to know about every company in the WCSB and is an integral tool for strategic decision-making.
View the AssetBook ARO Manager brochure
Why ARO?
Estimating retirement obligation liability for an asset package or an entire company is a crucial, yet difficult to grasp aspect of scoping for A&D deals. LLR ratios and government calculated liabilities only tell half the story. ARO is a key aspect of risk management and a disciplined retirement strategy is essential for corporate financial planning.
Learn More About ARO
The ARO cost model within XI's ARO Manager was developed through a culmination of government resources, expert opinion and industry data. The baseline values were derived from government agency data and this was augmented by professional experience when warranted. The values have been benchmarked against multiple sets of operator records and will continue to be updated as more and more information becomes available. Users of the ARO Manager can work with the standard XI Cost Model, partially modify it to reflect their real-world costs or create an entirely custom cost model. Professionals that contributed to the XI Cost Model include:
Abandonment coordinators
Facility engineers
Civil engineers
Professional agrologists
Reclamation managers
Professional biologists
Chemical engineers
Drilling engineers
HSE managers
Accounting auditors