Optimizing Your Drill Planning for Efficiency & Cost Savings
March 14, 2018
Following is an excerpt from a recent drill planning case study. The full case study is available for download here.
In the E&P business, lean times need to be learning times. With the current market, drilling teams are leaner than ever and trying to do more with less – less time, less resources, less budget. It's vital to find efficiencies and cost savings at every stage from drill planning through execution and fieldwork. In order to find those efficiencies and cost savings, you need to fully exploit the data that is available to you, then incorporate planning and analysis software tools to help you leverage the data to your advantage.
Better historical drilling data leads to better drill planning, and the more data you have to work with the less uncertainty you'll have in your plan. A strategic investment in data and technology can pay for itself hundreds of times over through improved productivity, simplified workflows, reduced costs, shortened timelines, and increased production.
In a recent case study, XI Technologies outlines how Drilling Engineer Troy Anderson was able to use XI's Offset Analyst software and the digital tour data of XI's TourXchange to achieve impressive results for a 6-well pad project in the Ante Creek area of Alberta.  
The Challenge:  Drill planning with little or no historical data
What happens when you're drilling a new area or an area where your company has very little proprietary drilling data?
In November of 2015, while working at Apache Canada, Troy Anderson was tasked with planning a six-well Montney pad in the Ante Creek area. While Apache had data for previous drills in many other areas across the WCSB, they had only drilled two wells in the Ante Creek area and needed more data upon which to base a drilling plan. Without access to offset data, Troy and Apache would have to take a trial-and-error approach to the drilling project, which can be a costly and inefficient process.
The Solution: Use digital tour data and drilling research tools to gain intelligence quickly and easily
We're fortunate in Canada, and particularly in Alberta, that detailed drilling tour data is publicly available. If we want to know what to expect from an area we can look for offset wells and refer to tour reports submitted by other companies drilling in the vicinity. But gleaning offset well information from the AER's PDF tour reports is a time-consuming manual process.
Utilizing XI's Offset Analyst software, Troy was able to query XI's TourXchange enhanced drilling database and glean insights from offset well data in the proposed drilling area. Quick, easy access to digital tour information meant he was able to rapidly pull the information he required on drilling fluids, bits, motors, well design, and drill problems encountered in the area. By incorporating Offset Analyst and digital tour data into his planning workflow, Troy estimates he cut his research and drill planning time by 80 percent.  Some quick queries to the database helped identify best practices and potential pitfalls for the area including: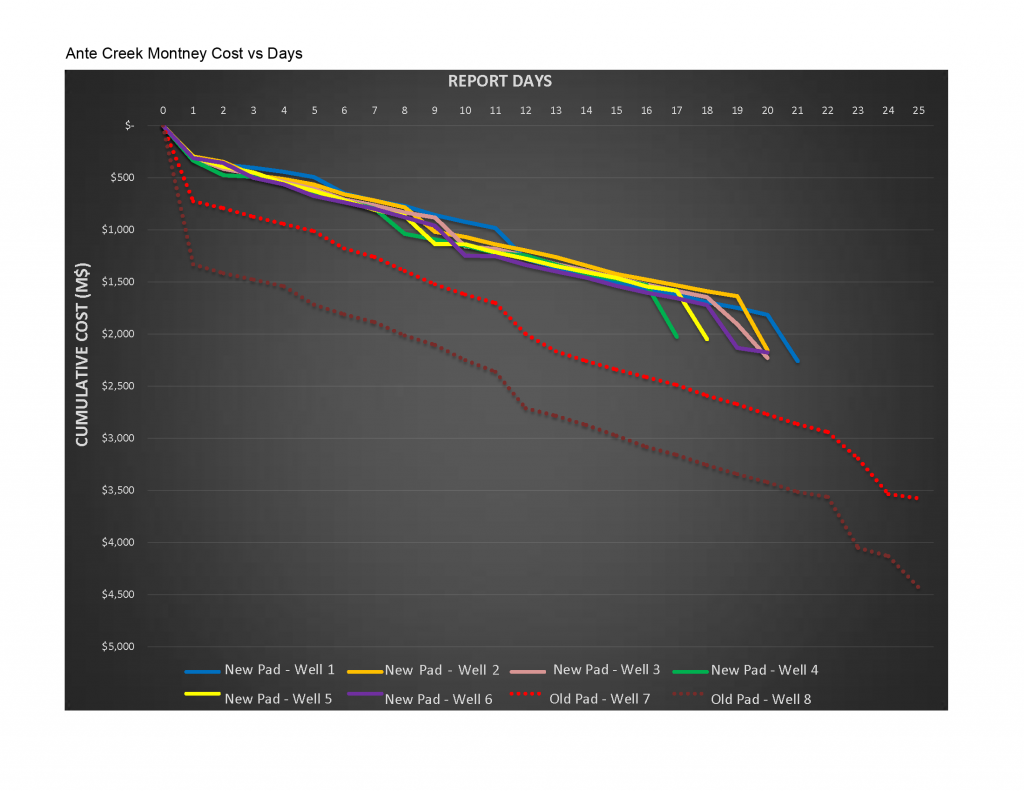 Bits
Motors
Well design
Drill problems
Most experienced service companies
The information gathered through XI data and software could then be exported for further analysis in external planning and analytic tools, or through the built-in drilldown reports and dashboards that come with the Offset Analyst Pro version.
The Results: 27 days ahead of AFE, $3.4 million under budget
Taking full advantage of the data mining and analysis capabilities in Offset Analyst allows Drilling Engineers to evaluate more relevant data in less time, significantly reducing research so they can spend more time on value-added engineering and project management work for better end results.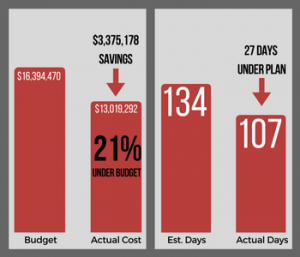 Drawing on data from the two previous wells that Apache had drilled in the area, along with the offset data pulled from other operators in the TourXchange, Troy was able to quickly put together drilling curves, estimates, and a solid drill plan for the proposed six-well pad. This resulted in a huge win where Troy and his experienced Field Personnel came in 27 days ahead of the projected AFE, and nearly $3.4 million under budget.
"The drilling data in XI's TourXchange is a resource that's designed to make all producers in the WCSB more efficient," says Troy. "There are very few companies that can't benefit from joining the TourXchange. The better data you have, the better decisions you can make, and these days even small efficiencies can mean big savings."
Download the Complete Case Study Here.