Word to the Wise: How much did our industry consolidate between 2014 and 2018?
April 9, 2019
In this weeks' Wednesday Word to the Wise, we examine how much consolidation has taken place in the WCSB since December 2014.
Each week, XI Technologies scans its unique combination of enhanced industry data to provide trends and insights that have value for professionals doing business in the WCSB.  If you'd like Wednesday Word to the Wise delivered directly to your inbox, subscribe here. 
Industry consolidation is a natural occurrence in any downturn, and this is certainly not the first time Canada's oil and gas sector has experienced it. Some weaker players fail and disappear. Juniors and mids merge to combine their strengths, solidify balance sheets, and grow. Majors acquire companies of all sizes in an effort to grow their asset base, gain economies of scale, and enhance their cash flow and market position in preparation for the inevitable market rebound.
But just how much consolidation has occurred so far? According to the enhanced public data in XI's AssetBook, between December 2014 and December 2018 the number of active companies with reported production in the WCSB shrunk by almost 17.5 percent. Active company count went from 1,616 in December 2014 to 1,334 at the end of December 2018.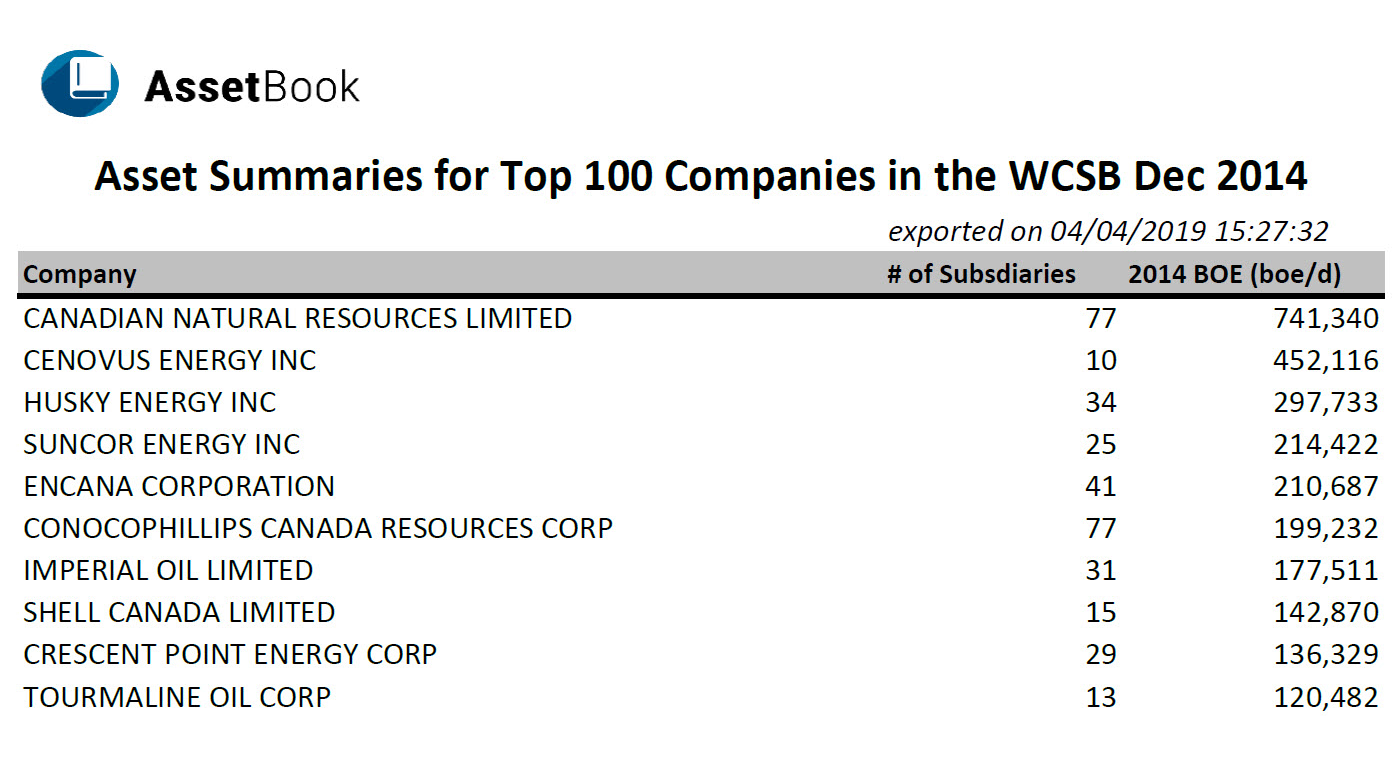 As a result of this consolidation, subsidiary counts for many companies have grown significantly – a sign that most of the companies that disappeared have been absorbed in one way or another. By way of example, let's look at two of the largest companies in the basin – Canadian National Resources Limited (CNRL) and ConocoPhillips Canada. In December 2014 there was 77 government Business Associate (BA) codes associated under CNRL. By December 2018 CNRL's subsidiary count had nearly doubled to 135. Likewise, ConocoPhillips' subsidiary count grew from 77 to 131 over the same time period.
Interestingly, an increase in subsidiary count (presumably from acquisition) does not always translate into increased production. From December 2014 to December 2018, CNRL production went from about 741,340 boe/d in AssetBook to about 617,885 boe/d, while ConocoPhillips' production went from about 199,231 boe/d to 76,537 boe/day (likely reflective of the 2017 sale to Cenovus).