Word to the Wise: Alberta licensees may be entitled to millions in LMR Security Deposit refunds
December 19, 2018

For this week's Word to the Wise, we've performed a quick analysis of potential LMR Security Deposit refunds and the results might surprise you.
Each week, XI Technologies scans its unique combination of enhanced industry data to provide trends and insights that have value for professionals doing business in the WCSB. If you'd like to receive our Wednesday Word to the Wise in your inbox, subscribe here. 
As most people in the oil and gas industry are aware, the Alberta Energy Regulator runs a Liability Management Rating (LMR) program. Under AER Directive 006, companies whose Licensee Liability Rating (LLR) – the ratio of deemed assets to deemed liabilities – is below 1.0 must submit an LMR Security Deposit. Over time, company positions and ownership can change and render these deposits unnecessary. But refunds are not automatic, and some companies may not be aware they are owed money.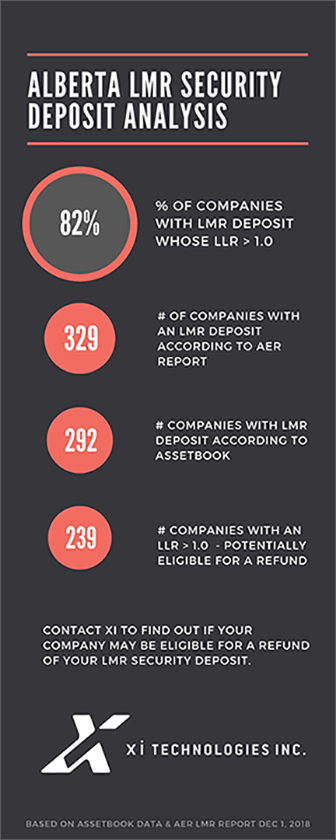 First, let's look at company counts. According to the AER's December 1, 2018, LMR Program Report, 329 companies currently have an LMR Security Deposit on account with the Government of Alberta. The updated data in XI Technologies' AssetBook shows just 292 licensees with a deposit. Why? Because the AER list does not account for 37 licensees that have been rolled up under other companies. This is potentially found money for buyers of the 37 companies. Is your company one of them? Contact XI to find out if your company is owed a security deposit due to an acquisition.
Also of note is that of the 292 companies in AssetBook with a deposit on account with the Government of Alberta, 239 of them (82%) have an LMR above the 1.0 threshold. There are many influencing factors but this means that 239 Alberta E&P companies could potentially be eligible for a partial or full LMR Security Deposit refund. Given that the average security deposit is $613,298.76 per company, this could inject more than $146.5 million cash back into company coffers.