Word to the Wise: Saskatchewan's Methane Reduction Plan – A Province-led Success Story.
May 9, 2023
Each week, XI Technologies uncovers trends and insights using our enhanced data and software focused on the WCSB. If you'd like Word to the Wise delivered directly to your inbox, subscribe here.  
In anticipation of the Government of Saskatchewan's 2022 Annual Emissions Report, we thought it would be interesting to highlight its successes to date and make a forward-looking prediction by calculating our own 2022 number using the AssetBook Emissions Tool. Are they on the right track? Let's look at the data to tell the story… 
In December 2017, the Government of Saskatchewan introduced their balanced-approach plan to mitigate associated gas (methane) in their province, regulating their top 30-40 producers with annual emissions intensity limits. The aim was to reduce Greenhouse Gas emissions from a 2015 baseline by 40-45% (a reduction of 4-4.5Mt of CO2e). The plan, known as the Prairie Resilience: A Made-in–Saskatchewan Climate Change Strategy, was intended to allow the province to take full jurisdiction of their GHG/Climate strategy, while also providing a flexible framework to reduce GHG emissions.  Specifically, the Methane Action Plan focused on reducing methane and/or associated gas by focusing on three main levers of mitigation:  
Reduce venting (the most potent form of emissions) by introducing flaring to these sites;

 

Tie in and use associated gas to generate energy onsite;

 

Tie into gas infrastructure for sale.

 
The Methane Action Plan was released in January 2019, with calendar year 2020 being the first to enforce required emissions reduction regulations.
The inaugural 2020 report saw a whopping 5.7 mTCO2e drop in venting and flaring emissions relative to 2015 numbers, surpassing the 4.0 – 4.5 mTCO2e goal set for 2025. 
(Source: Oil and Gas Management Regulations 2021 Annual Emissions Report.)

Figure 1: Annual Provincial Emissions from Flaring and Venting at Upstream Oil Facilities.
A Closer Look at the Data: 
Using XI Technologies Emissions Graph showing trends, we can take a closer look at the data behind the impressive drop. While the big decrease is worthy of celebration, we notice that external circumstances (a global shutdown in March of 2020) likely played a consequential role in speeding up the progress.  
The important thing to note however, is that companies used that head start and continued to improve their emissions intensities going forward. It's also clear that companies focused heavily on decreasing venting emissions as an impactful mitigation tool to drop emissions intensity. Venting direct methane into the atmosphere produces 4 to 6 times more potent a greenhouse gas than the CO2 released when the gas is flared off. Venting (blue) is the one consistent downward trend. 
 (Source: AssetBook Emissions Report)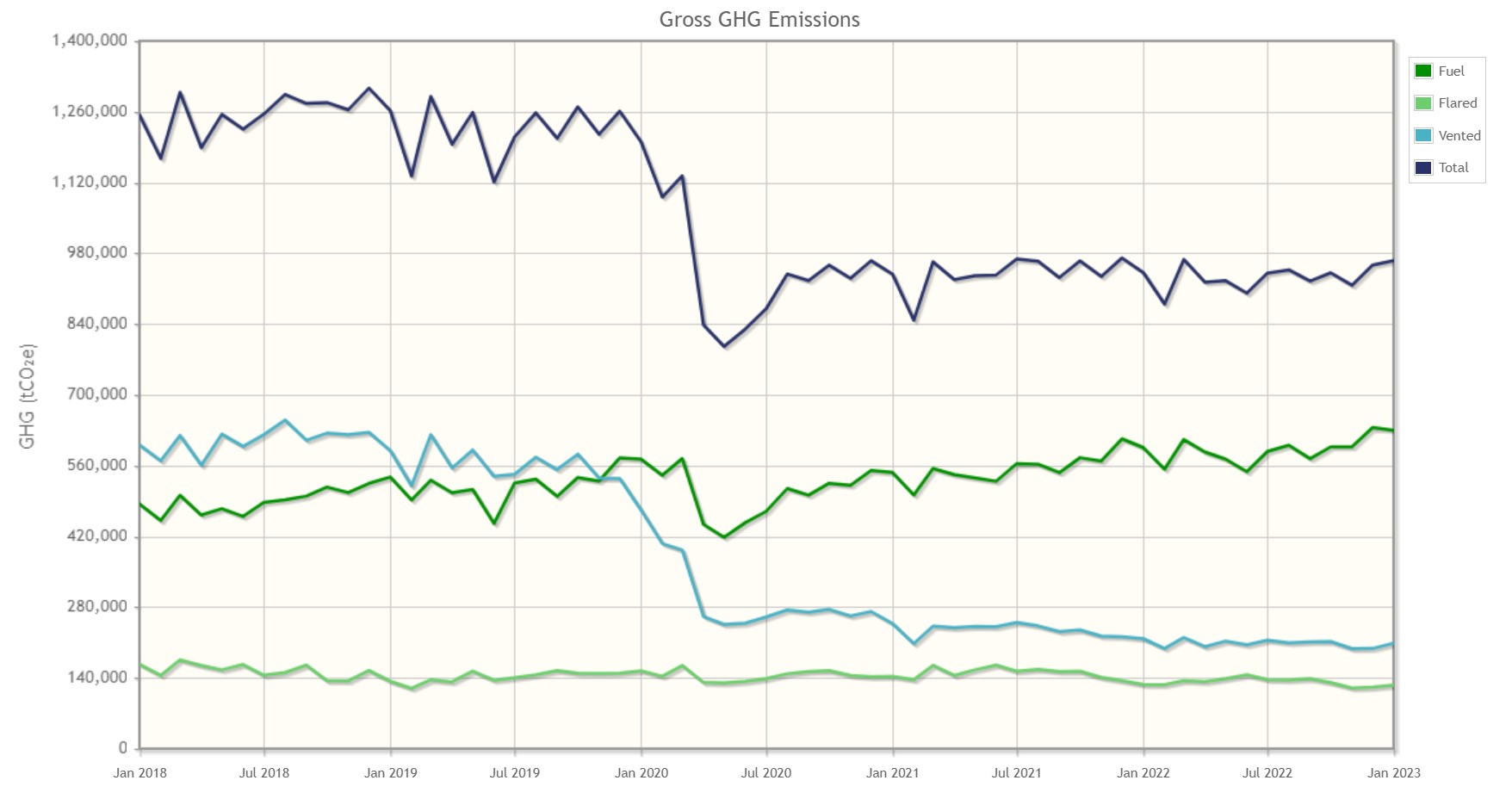 Figure 2: XI Technologies Emissions Trend Graph for all of Saskatchewan 2018-2022. The biggest drop in Flaring and Venting occurred in March, 2020. Venting has continued a declining trend.
(Source: AssetBook Emissions Report)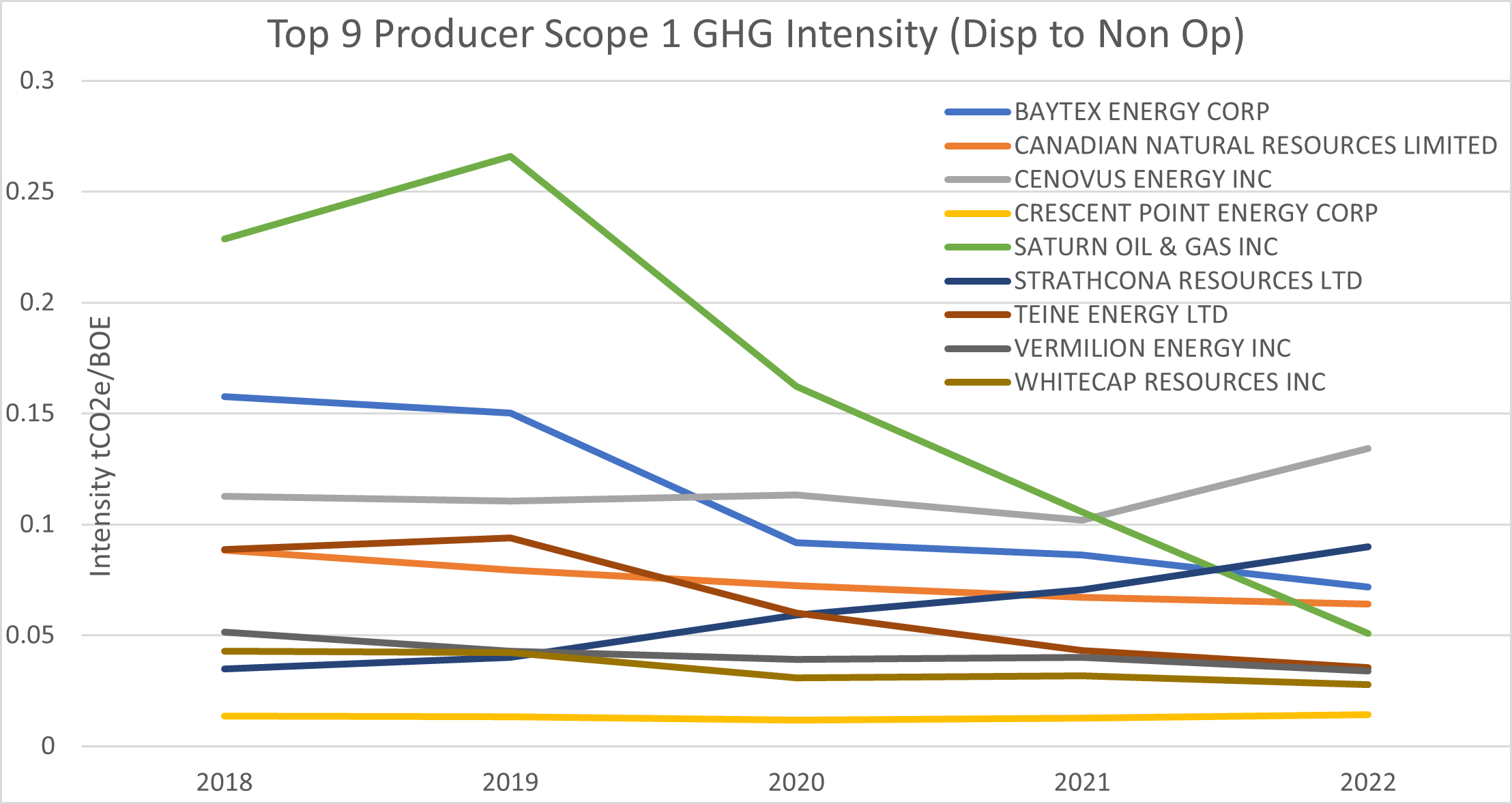 Figure 3: XI Technologies Emissions Intensity by Company. Top 9 Producer Scope 1 GHG Intensity (Disposition to Non-Operated Production / tCO2e). This figure includes Fuel Emissions, as part of Scope 1 reporting.
Stationary Combustion (Fuel) Emissions:
The Methane Action Plan specifically focuses on venting and flaring emissions. It's worth having a look at how fuel emissions have fared over the same period. In Figure 2 above, the dark green line representing fuel emissions shows a dip in March 2020, followed by a gradual increase month over month.
(Source: AssetBook Emissions Report)
| | |
| --- | --- |
| Year | Mt of CO2e |
| 2018 | 5.87 |
| 2019 | 6.233 |
| 2020 | 6.088 |
| 2021 | 6.649 |
| 2022 | 7.068 |
Figure 4: XI Technologies calculated Fuel Emissions Totals 2018-2022
The Prairie Resilience: A Made-in-Saskatchewan Climate Change Strategy, specifically the Methane Action Plan has clearly been a successful endeavor, and 2025 goals have already been reached and surpassed. The results demonstrate Saskatchewan's regulatory leadership and provides a good framework for a balanced, jurisdiction-led climate change plan. While outside circumstances helped this process along, the overall trend is still in the right direction.
As we wait for the Saskatchewan Ministry of Energy and Resources to release their 2022 Annual Emissions Report, XI's AssetBook Emissions Report estimates the total calendar year emissions for Flaring and Venting reported will be in the 3.9-4.1 mTCO2e range (7-11% decrease from 2021), showing continued and on-going improvement in emissions reductions.
If you'd like to learn more about the AssetBook Emissions Report, and XI's AssetSuite software can analyze companies, packages, or regions throughout Western Canada, visit our website or XI Technologies
---