Word to the Wise: When budgets are this tight, you need to drill smarter
October 8, 2019
What's the secret to getting drilling project approved in 2019?
This week, our Wednesday Word to the Wise looks at how data can help drive improvements in your drilling program. If you'd like to receive our weekly blog in your inbox before anyone else, subscribe here. 
It's a myth that drilling has ceased in the WCSB. That notion is simple shorthand for the difficulties our industry currently faces in today's economy, something you say when commiserating with colleagues and industry contacts. While it is true that many drilling budgets have been slashed in recent years, many producers still manage new drills and explore different areas in 2019 and being quite successful at it (and XI has the data to prove it).
Those who are still drilling in this price-sensitive, capital-starved environment know that they need to run lean, efficient operations to get their projects approved and to make the project profitable. So what's their secret to getting drilling projects approved in 2019?
The answer obviously varies between producers and location. But almost certainly a common thread for everyone succeeding under tight budgets and tight scrutiny is leveraging information to make better decisions before a drill bit ever breaks ground.
What do you know about the area you're proposing to drill? What drill bits have proven most effective in the area? What drilling contractors and downhole tools are most influential? What drilling mud emulsifiers and combinations of other fluid additives are enabling cost savings and improving performance? What problems typically arise in the area, when do they require intervention, and how are they planning to mitigate those risks?
Having answers to these questions before you propose a new project helps you map out potential problems and costs and reduce costly trial-and-error approaches. You can find savings in hiring contractors by determining who has been most successful at dealing with the issues of the area and limiting your equipment rentals to what you need, when you need it.
If you're drilling an area you already know, then answering these questions might be easy. You make adjustments where necessary, as you review your own data and records, while sprinkling in some over-the-fence offset research. But what if you're pushing outside your core area just a bit? Or drilling a totally new area? Or considering new well designs that others in the area are having success with? Your need for information is just as great, but the method of gathering it could prove challenging. Would you like to base your drilling planning decisions on five points of data or a hundred? Which do you think is likely to give you more certainty in your decision making?
We all know that drilling information is available, whether it's order reports from AER, or calling on service companies for their records. Anyone who has done this knows what a time-consuming and arduous process this can be. Hours spent combing through pages and pages of pdfs, trying to make sense of inconsistent reporting between tours. Not only does the process add a significant amount of hours to the research process, it might dissuade companies from doing the research in the first place. It's onerous enough analyzing just five or six offset wells, so how could you add another 95 reference wells to your research to improve the certainty of your decisions?
XI makes this process simple and thorough with Offset Analyst software. The industry's first WCSB-wide source of digital drilling information from public data, Offset Analyst makes it easier and faster to plan, compare and make key decisions on your drilling program quickly and efficiently. Leveraging the power of the TourXchange program, XI offers nearly 200,000 digitized well records accessible at the click of a button to program members that have contributed their public drilling records.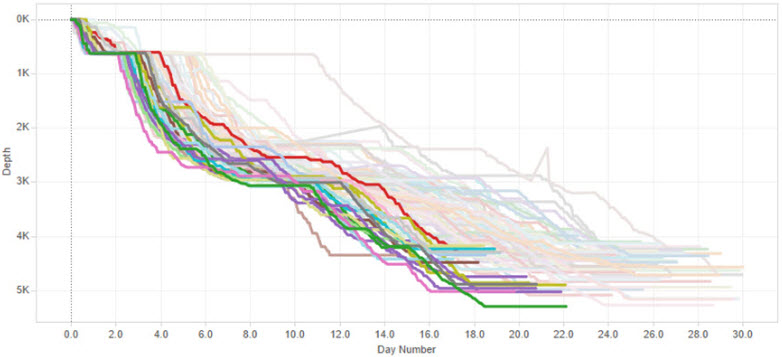 Does it work? XI clients say yes, it does. One such client brought in a six-well pad project more than $3 million under budget and 27 days ahead of projections largely thanks to the research they were able to do using TourXchange and Offset Analyst. In today's challenging drilling market, being able to leverage savings like this could be the difference between getting approval for a 10 well program versus 15, or getting next year's proposal approved at all. Drilling activity may still be scarce these days, but the producers who learn how to drill smarter will be the ones to succeed.
For details on how our client managed these savings using Offset Analyst, download the paper here.
For a more in-depth look at XI's Offset Analyst software book a personalized demo.