Word to the Wise: How the oil and gas industry can adapt to today's challenges
September 24, 2019
For this week's article, we thought we'd share with you some of the ideas we took away from the 2019 Canadian Association of Petroleum Landman (CAPL) Conference and the 2019 Energy Disruptors Conference.
This week, our Wednesday Word to the Wise looks at how data can help drive improvements in your drilling program. If you'd like to receive our weekly blog in your inbox before anyone else, subscribe here. 
Last week, XI had the opportunity to take part in two important industry conferences, the Canadian Association of Petroleum Landman (CAPL) Conference and the Energy Disruptors Conference. Both these conferences featured exciting exchanges of ideas within our industry, stressing the need for innovative ideas and solutions to combat the challenges we face. At XI, we're proud to be part of an industry eager to meet these challenges and to add our ideas and products to this landscape of innovation.
At the CAPL Conference, XI's VP of Business Development Jennifer Baerg hosted an afternoon of "CAPL Talks" – short, engaging presentations focused on ensuring land professionals walk away with an expanded toolbox to tackle the challenges of today and future business. For her part, Baerg discussed how businesses often evolve on a pivot point – a moment when an unexpected change, be it technological, philosophical, or situational, forces them to pivot into the next phase of development.
With the evolving issues in environmental liability management in Canada's energy sector, Baerg posited that the next pivot point for landmen might be understanding the impact of asset retirement obligations, even before the deals are drawn up and the assets are acquired. The industry has always relied on landmen to provide the right information to the right people at the right time, during the deal-making process. With the increase in importance placed on ARO in the WCSB, landmen might be best positioned to introduce ARO assessment at the right time during the deal-making process, facilitating the transfer of ARO information to the right people in the next phase of the asset life cycle.
"Business development leaders and regulators need to know the liability impacts of a potential deal on both vendor and purchaser", Baerg told the CAPL audience. "Banks need detailed liability information during credit redetermination. HSE and operations managers need detailed liability information to plan and budget for abandonment, reclamation, and remediation work. E&P companies, and their auditors, need a better way to communicate and track changes from quarter to quarter or year to year. The landman who understands and delivers ARO information in the earliest stages of a transaction could be well positioned to succeed in this environment."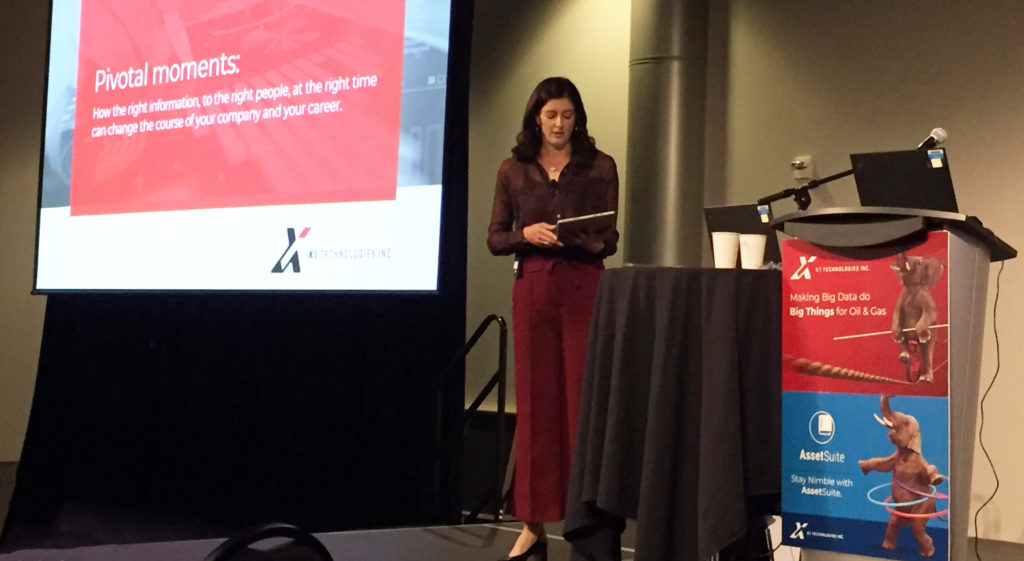 At the Energy Disrupters Conference, ideas were exchanged about the common interests of different energy industries, not just oil and gas, and how we can work together for positive, meaningful change. XI's VP of Drilling Services Andy Newsome was in attendance, "It was liberating to be reminded of how much influence the Canadian oil and gas industry has on the development of new energy solutions and emissions reduction", said Newsome. "Climate change activists who spoke weren't vilifying our industry, but instead were praising us for the environmental role we play".
Presenters talked about how those in our industry looking to make the case for expanding market access need to adjust their message from the economic benefit of exporting our product and instead begin to discuss the potential positive global environment impact. What if we could reduce China's dependence on coal-based energy by supplanting it with the lower emission energy produced here in Canada? WCSB producers have a role to play in improving global emissions problems and its time we spread that message, rather than letting our opponents define us.
Both conferences offered fresh perspectives of where our industry is headed and what we can do to meet the challenges ahead. At XI, we offer solutions to help with these challenges like ARO Manager, a tool to help companies evaluate, track, manage, and report on asset retirement obligations, and DrillingSuite, data and software for efficient drilling research and improved drill performance.
For a more in-depth look at XI's Asset Planning, LLR, ARO, Drilling or Regulatory solutions  book a personalized demo.